Families Equipped. Childhoods restored.
Real stories from real families.
Unplowed Ground therapeutic parenting is the piece that our family didn't know was missing for many years!
We have 2 biological children and 3 adopted children. We struggled for several years with our first 2 adopted/challenging children. We didn't know what it was… but we knew something was wrong and we couldn't figure it out. We were trained in Unplowed Ground in the Spring of 2016 and it has completely changed our family and our home! It would be a huge understatement to say that the introduction to Unplowed Ground was a "light bulb" moment for us. We were finally seeing that our kids needed something from us that we weren't providing and had no clue we needed to. We fully believe that God led us to Unplowed Ground for HIS glory. He needed us to be equipped and empowered to cultivate the soil of our rescued children's hearts in order for them to find true healing which comes from HIM alone.
I love all the different services that King's Ranch has to offer. That being said, since I am a single momma of two teenagers, the respite care they offer is a necessity not just a luxury for me. I can feel confident that my daughter is in trusting hands of people who know what type of parenting she needs. She comes home ready to work on getting her heart stronger with a much better attitude! I am forever thankful that this organization was brought into my life.
In preparing for our adoption, we read many other books and listened to many podcasts & videos. Although they were all helpful, Unplowed Ground is the only one we found that gave us the specific, practical strategies we needed for our first days, weeks, and months at home, for forming attachment, for uprooting the thorns of trauma, and for giving her a voice. We used the strategies well into the first two years of her journey with us. It is the only resource we have found that perfectly balances nurture with structure, to help her feel safe, so that she could learn to accept our love. Many of the other books helped us with nurturing activities, which is wonderful, but we have seen firsthand that the Unplowed Ground strategies first helped her feel safe for the first time in her entire little life, and then, and only then, has she been able to accept nurture and love and grow to trust us as her forever mom and dad.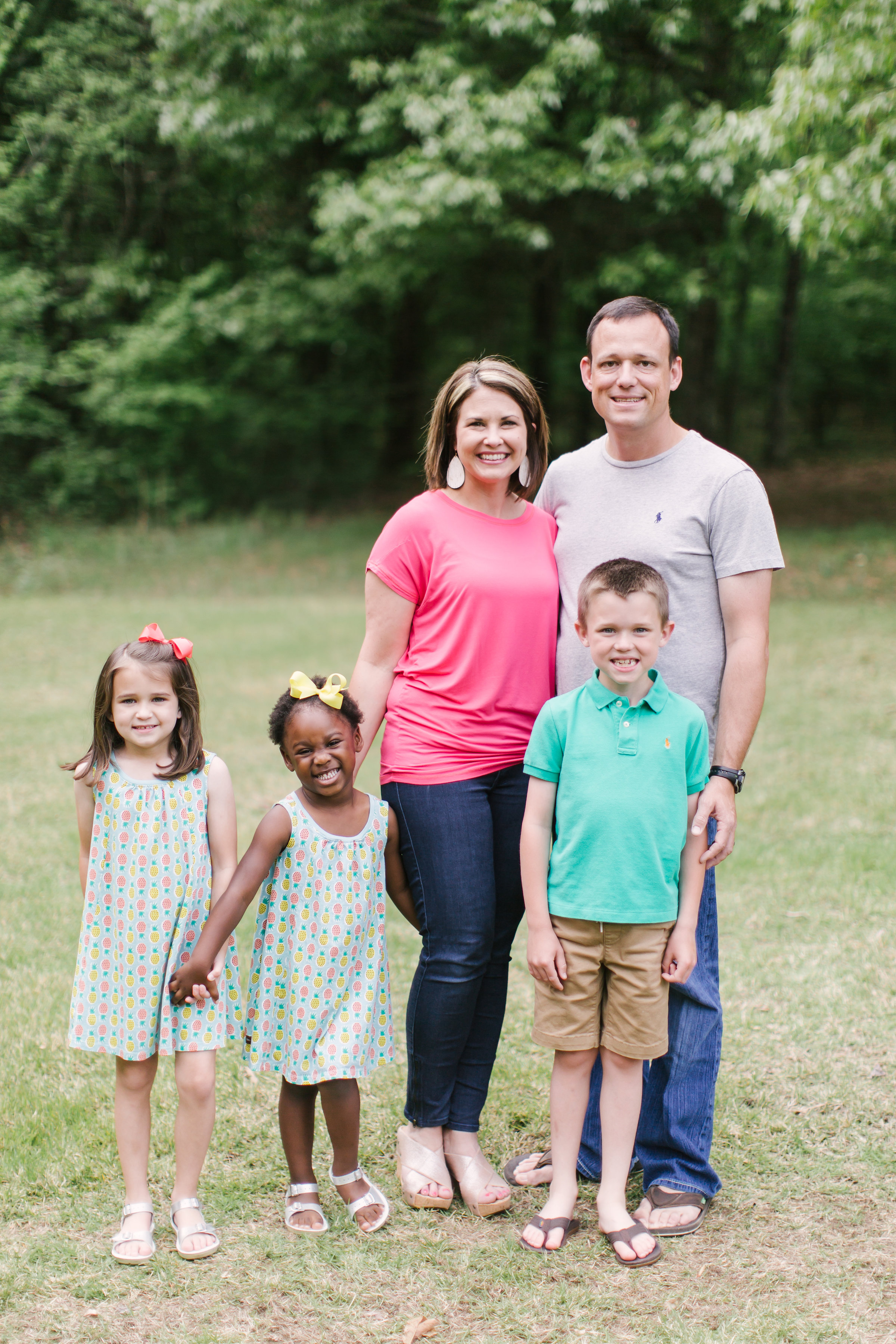 brooke, foster/adoptive mom
Before implementing therapeutic parenting techniques we learned in Unplowed Ground training, our 3 year old was having major difficulties. She was very aggressive with our two other children, was very defiant when instructed to do anything, was throwing major temper tantrums, etc. After implementing the techniques we had learned, her behavior did a complete turn around. She was no longer aggressive and the defiance slowly faded away. She thrived in "stations" and with the safe structure. As parents, we thrived with the techniques because we now had tools to use with her that were effective and tailored for her needs.
Kelsey, Adoptive Mom
When we felt helpless, worn down, stressed to the max, fearful for the future of our child with Reactive Attachment Disorder and fearful for the sustainability of our marriage through the obstacles and challenges that were presented to us, the Lord lead us to Lee Anne Cooper. She was the best resource and teacher that we could have ever found in regards to parenting a child with compromised attachment. She trained us using Unplowed Ground, provided us with support and guidance throughout the process of learning how to parent therapeutically as well as the right type of therapy/therapist needed for our child and family to begin to heal. Ultimately, this organization was a game changer for us, and was the catalyst for so much positive growth in our family. I cannot begin to say enough good things about this Christ-centered family and organization. Our daughter is now helpful, doing well in school, a joy to be around, and well on her road to healing from her complex trauma that occurred early in her childhood.
Paul & Kim, Adoptive parents
God brought us three children. We knew that God intended these children to be ours. A year later, we finalized our adoption. We blindly entered into the world of attachment issues as many do. We thought if we provided a loving and secure environment for these toddlers, our family would thrive. While two of our children responded as we anticipated, our precious middle child became more and more difficult. The simplest way to explain our life is that while in public, our children looked like the happy little Hallmark Original Movie. However, as soon as we were behind closed doors, life looked more like Shark Week. Life seemed like a bad dream from which there was no escape. Yet, everyone around us would comment on how our God blessed our family.
For six years, our family was in survival mode working with several different therapists and trying a myriad of different techniques to draw our daughter into the family. Each new attempt sent our daughter spiraling further away from us and any type of healing. We felt controlled by her life before our family and subsequent enraged behavior.
God, in His perfect timing, brought us Unplowed Ground. Through this program we received instruction that promotes healing in our home. As parents, we were equipped with training and techniques that continue to serve all our children where they are in their struggle against Reactive Attachment Disorder. This training is practical and encouraging for parents. The balance of structure and nurture fosters a true sense of safety and security for our children. In the seven months since implementing Unplowed Ground, all three of our children now have a peace about them (most days). Our home has a peace once again that has not existed for over six years. Most days, our kids love to rock The Big 6, making it what we like to call "The Big 18"!
Misty, Adoptive Mom
Our son entered our lives a year and a half ago. We were elated to be parents and could not wait for the fairy tale to begin. We knew he had behavioral concerns before he moved in with us, but we believed that we could parent him the way we were parented, love him a whole bunch, and it would be super easy to help correct those concerns. About 3 months into having him live in our home, we discovered that our parenting method was failing. Our house was being ruled by this child who refused to follow basic instruction, was physically aggressive toward us (mostly me), and was destroying things in our home. If not given his way, he would scream and throw things at me. He would literally run at me and hit, kick, and push me down. I was not prepared for this. I mean, he was eight and I was an adult. How was it that he was hurting me? We realized that our traditional parenting method wasn't working, but we had no idea what else to try. I was embarrassed to tell anyone the truth and admit that I didn't know how to parent my soon-to-be adopted son.
We sought out King's Ranch in a desperate effort to find help. We were accepted with open arms and found out that our experience wasn't so unusual after all! Oh the relief to discover that we were not alone. King's Ranch took us in and helped us understand that there was hope! We went through Unplowed Ground and began to see how we could adjust our parenting and regain control of our home, our lives, and love our little boy through it all. Therapeutic parenting saved our family from a life of misery. Learning how to parent our now adopted son not only taught him how to love and trust us, but taught us how to love him. This child who was tearing our home apart is now our greatest joy in life. His healing journey is still underway, but to look back at where we were and see where we are now, it is incredible. We cannot thank King's Ranch enough for being so supportive and encouraging every step of the way.
Kristy, Adoptive Mom
Without Unplowed Ground, I don't know where we would be. In a few months our home went from a war zone that we had no control over to a place of safety, and we have so much more understanding of our kids' needs.
Dustan and Shelly, Adoptive Parents
Unplowed Ground has given us hope that we didn't think would be possible. We have seen our other children settle and start to thrive as they now know that our oldest (child from trauma history) is with us and not able to cause any problems. We have seen the benefits in just a few weeks for our other children.
Sarah, Adoptive Mom
Thank you for hosting us and walking us through this program. We were desperate for help as this problem was tearing our family apart. After this three day session, we feel better equipped to overcome RAD and help our child become the person she needs to be. We are confident and relieved to learn so much about the 'why' and 'how' to work at this.
Kim, Adoptive Mom
Thank you for using your gift of hospitality and godly wisdom to begin a transformation of our family. You have allowed our family to rest and be restored in the Hogue Home. We are leaving with a different child who has changed and will continue to change. Your tools will continue to impact and change our lives. Thank you for answering the call to serve our Savior!
Ashley, Adoptive Mom
We decided to go to King's Ranch due to our children's Reactive Attachment diagnosis. I first saw Lee Anne Cooper at the Hope Conference in Little Rock, Arkansas. She explained trauma and attachment issues so well! After the session she gave us advice about who a good attachment therapist was in our city and invited us to King's Ranch for a Family Mini-Intensive. After seeing the new therapist for several months, we decided to go to King's Ranch in the summer.
My husband and I had watched the Unplowed Ground training videos before we arrived at our Mini-Intensive. Once there, Lee Anne Cooper took three days with us to go over the videos and answer any questions that we might have. While we were being trained, our kids were getting an introduction to stations. We were informed by the staff how they were doing and what their struggles were. Lee Anne took the time to explain these struggles to us. The staff provided us a box of needed supplies for stations, and we implemented them at night.
While the kids were in stations during the day, we got to observe the staff working with them so we would know what to do. The staff was very knowledgeable, professional, and very patient. Lee Anne also saw that we needed some encouragement so she bought my husband and I devotional books to take home.
We have used King's Ranch Respite Care for each of our kids since coming home, and the staff has been available and responsive to us. Our kids are more respectful and responsible now. We are still working on healing their hearts and minds. It is not a quick process! We have had to change how we live and interact with our kids, but it is worth it! We are so thankful to King's Ranch for helping us get started and continuing to be a resource for us to use. We would not have been able to accomplish healing our kids without their help!
Robyn, Adoptive Mom
I knew Unplowed Ground would greatly affect us but I didn't realize it would be instantaneous. I already cannot live without the lessons I've learned and changes we've made.

Wondering if Unplowed Ground is a good fit for your family?
We would love to hear your story and answer any questions you may have!